Throwaway Thursday–Copyfighting Edition
26 May
in Entertainment, Intellectual Property, Internet, Piracy, Politics, Privacy, Science & Technology, Throwaway Thursday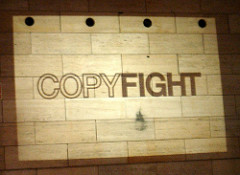 Image by David Domingo via Flickr
In the latest outbreak of pure douchiness, BMI - those happy, benevolent little elves who run the collection cartel on broadcast radio stations – is alleging that listening to your own music via cloud services amounts to a '"public performance" subject to licensing fees.
Presumably trying to get back in the good graces of open-standards proponents, Google has signaled that it is prepared to fight both houses of congress and the president of the United States if the entertainment mafia successfully pushes through Leahy's Orwellian Protect IP Act – a wish-list of anti-piracy measures that threaten to undermine the open internet.
HarperCollins has announced their intention to cripple e-books after 26 rentals forcing public libraries to cough up additional annual licensing fees. Which is really not a big deal since libraries and their patrons are so flush with cash anyway. For the moment, HC is the only publisher to have done so, though if the trend continues it could spell the end of digital modernization in public systems.
Finally, the award this week goes to Nintendo whose 3DS EULA mandates ongoing centralized updates during which they will brick (deactivate) your system if it contains unapproved software or peripherals. But at least Nintendo claims a perpetual, worldwide copyright to all photos and videos taken with your camera.