Oklahoma Tea Party Organising for an Anti-Government Militia
14 Apr
in Gun Control, Healthcare, Racism, Taxation, Tea Party



For the only state in the "union" to proudly lack a single county voting for Obama; whose government employees permit gun safety classes only for registered republicans; whose ranked among the 10th worst state in the country for child well-being, the fifth worst states for women, and eighth worst state for healthcare; who the BBC identified as the most racist and ignorant state in America – yes, this shining example of America's heartland is once again leading the race to the bottom: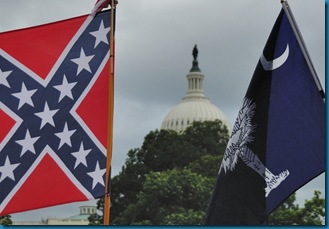 Image:
9-12 March in DC-58
, a Creative Commons Attribution No-Derivative-Works (2.0) image from andrewaliferis's photostream
Frustrated by recent political setbacks, tea party leaders and some conservative members of the Oklahoma Legislature say they would like to create a new volunteer militia to help defend against what they believe are improper federal infringements on state sovereignty. … But the militia talks reflect the frustration of some grass roots groups seeking new ways of fighting recent federal initiatives, such as the health reform plan, which requires all citizens to have health insurance. Over the last year, tea party groups across the country have staged rallies and pressured politicians to protest big government and demand reduced public spending.

In strongly conservative states like Oklahoma, some legislators have also discussed further action to fight federal policies, such as state legislation and lawsuits.
Excuse me - 'some' legislators are talking about fighting back with the law?
Some??
Image:
9-12 March in DC-71
, a Creative Commons Attribution No-Derivative-Works (2.0) image from andrewaliferis's photostream
As the Republican gubernatorial candidate points out, such militias are indeed permitted by the second amendment (though check out his statement for an accidental denunciation of the gun lobby's overreach), though it is unprecedented for a state to legislatively enlist a private military to fight against the federal government. Moreover, it is entirely unclear on what kinds of military actions would be able to repel the evil onslaught of health care.
But during the 15th anniversary week of the OKC bombing, the money quote comes from J.W. Berry, a Tea Party leader in Tulsa, who argues that since it's done with the full cooperation of the legislature, that "it's not a far-right crazy plan or anything like that." Berry began soliciting support for the movement through his newsletter article, "Buy more guns, more bullets."
Welcome to the growing pains of that hopey-changy thing.