More shenanigans from the TSA's Keystone Screeners
20 Aug
in TSA / Homeland Security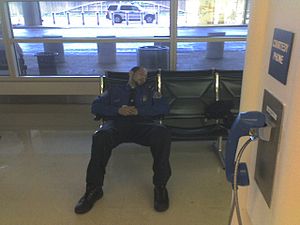 Image via Wikipedia
After September 1st, the TSA issued a new directive that airport screening must be related to airport security alone. Meh:
That same screener started emptying her wallet. "He was taking out the receipts and looking at them," she said.

"I understand that TSA is tasked with strengthening national security but [it] surely does not need to know what I purchased at Kohl's or Wal-Mart," she wrote in her complaint, which she sent me last week.

She says she asked what he was looking for and he replied, "Razor blades." She wondered, "Wouldn't that have shown up on the metal detector?"

In a side pocket she had tucked a deposit slip and seven checks made out to her and her husband, worth about $8,000. … She protested when the officer started to walk away with the checks. "That's my money," she remembers saying. The officer's reply? "It's not your money."
As the full article points out, there are laws against such fishing expeditions (not to mention that pesky little fourth Amendment thingee), so Why exactly do we let the TSA issue such 'directives' – as though they could pick and choose which constitutional tenets to obey?