Are Americans too busy to think critically?
15 Nov
in Capitalism, Congress, Corporatism, Democracy, Democrats, Elections, Libertarianism, Marxism, Politics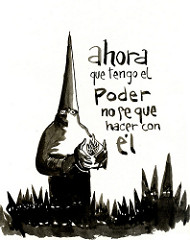 Image by UN MANUÉ via Flickr
Alternet has yet another compilation of 16 of the dumbest things Americans believe --- taxes went up under Obama, Hussein was connected with 9/11, ad nauseum. Articles like these may salve the sensibilities of those not victim to the propaganda machine of a certain billionaire and corporate-sponsored "grassroots" movement currently in the ascendency, but no matter how blatant a lie is exposed, it will do little to sway those who believe the big lie – that U.S. media has a liberal bias.
So what to do in a political and cultural landscape in which well-told lies have more validity than fact-based truth:

"...by a two-to-one margin likely voters thought their taxes had gone up, when, for almost all of them, they had actually gone down. Republican politicians, and conservative commentators, told them Barack Obama was a tax-mad lunatic. They lied. The mainstream media did not do their job and correct them. The White House was too polite—"civil," just like Obama promised—to say much. So people believed the lie."

We've entered a bizzarro world in which calling out lies is considered rude, says Perlstein, so liars are allowed to sit tight and dominate the discourse. This gels with Bill Maher's critique of the Rally for Sanity, that calling for "balance for balance's sake" ignores two important aspects of news reporting: facts and evidence.
The modern left is saddled with a two-fold curse. The first is the erroneous belief that civility is paramount – a paradigmatic weakness that prevents us from calling out lies and the liars who repeat them. The second is the conundrum that left-leaning politicians are beholden to the same corporate interests that drive such lies. True Enough has become the mantra of the modern-era; a policy of ignoring the "little" lies, laughing at the big ones, and losing elections rather than bucking the status quo.
Blaming Americans for being ignorant unwashed masses--or taking potshots at an education system that doesn't teach critical thinking-- would be the easy answer to this conundrum.

But the reality is that if messaging has such a big effect on Americans, then messaging matters.
And indeed, it is messaging over fact that drives the 21st century political consumer. The intelligentsia and masses alike fight a perpetual battle over whose lie can achieve critical mass (hint – the corporate media are neither left- nor right-wing, but overwhelmingly neoliberal) while multi-national corporations continue to consolidate power. In the end, it really doesn't matter what liars control which body of government; the debate itself is king. Our capacity to choose tribal identity over self-interest keeps us all distracted from the only truth that matters – that the interests of the ruling class are not our own.